The Christmas countdown has well and truly started, and it's time to get festive!
The build-up to the big day can be incredibly exciting, and there are so many things you can do to help get you in the festive mood.
To begin with, get your Christmas jumpers out because on 8th December it is Christmas Jumper Day! Millions of people around the UK are putting on their Christmas jumpers at work and schools to raise money for 'Save the Children'. What an amazing thing to do and activity to be part of. This will be an incredibly festive day with those around you all dressed in various weird and wonderful Christmas jumpers!
Plus, you are doing it for a fantastic cause, where you can 'make the world better with a sweater' – what a great slogan!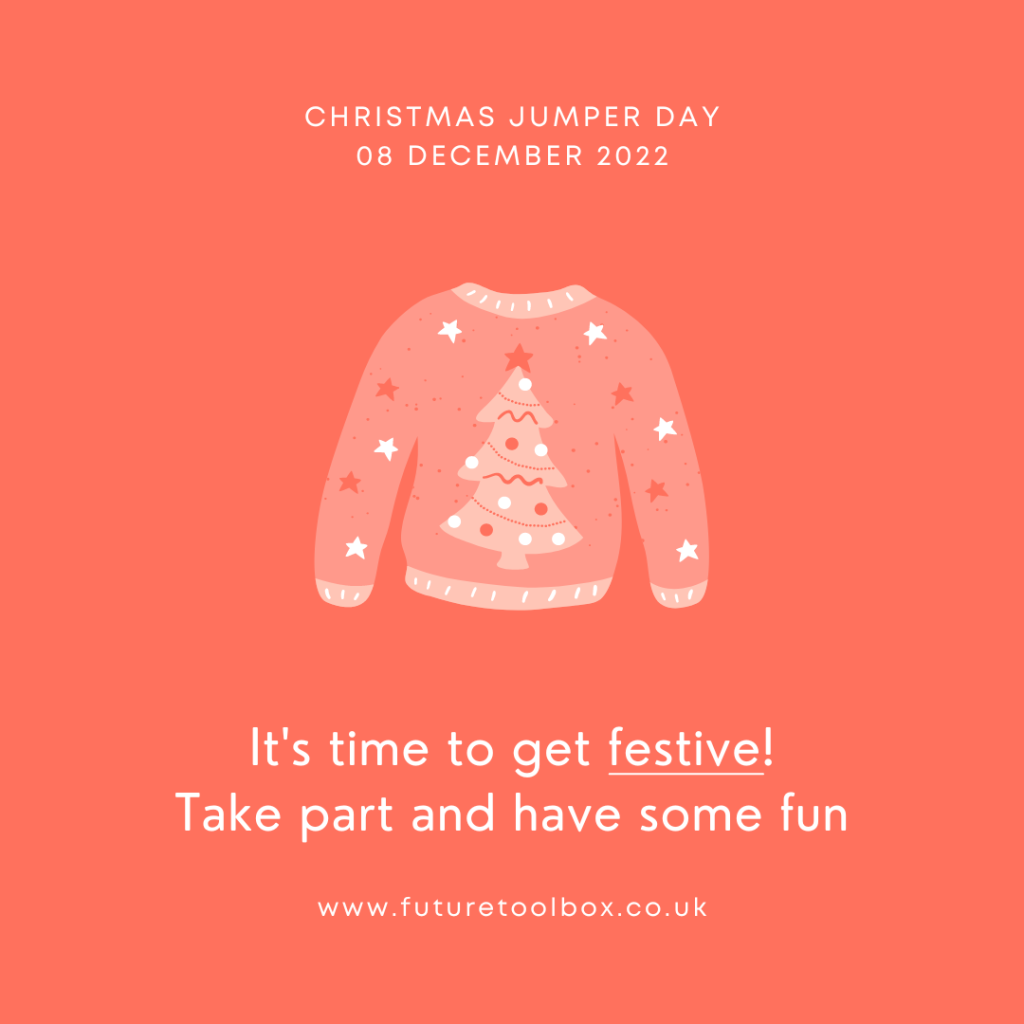 So, what else can I do to be festive?
There is a massive amount of thing you can do to be festive in addition to your Christmas jumper wearing. Here is an advent of things, so 24 ideas you could do throughout December to be festive and Christmassy!
Have an advent calendar and enjoy opening it up each day.
Go and see some Christmas lights (or put some up!)
Go carol singing
Decorate your house and Christmas tree (It is said that if you make your environment reflect the happy holiday feel, it can help to lift your mood)
Watch Christmas films or the Christmas TV specials of your favourite TV shows.
Decorate a gingerbread house
Have a Christmas Party or meal
Light Christmas-scented candles to make your house smell of Christmas.
(For any children reading this, you must have an adult with you)
Enjoy a Christmas quiz or game night
Go to Santa's Grotto
Read a Christmas book
Listen (and dance) to Christmas music
Drink some hot chocolate (with whipped cream and mini marshmallows, perhaps!)
Hang up your stockings
Go to a Christmas market
Buy or make presents for other people
Volunteer to help host a Christmas lunch for the homeless, elderly and venerable
Do some Christmas baking (Such as sugar cookies, mince pies or gingerbread)
Send people Christmas wishes (You could send them a card in the post or send a message on social media or via email)
Go ice-skating
Start or continue a Christmas tradition.
Make Christmas decorations (Such as bunting and paper snowflakes)
Go to a Christmas concert or show. (There will most likely be Christmas events happening in your local community)
Enjoy eating food and drinks you only have at Christmas time (Such as mince pies, roasted chestnuts or gingerbread. For the adults reading, you might enjoy drinking mulled wine and cider or eggnog.)

As you can see, there is so much you can do to enjoy the festive season, and this is not an exclusive list! 
We know that Christmas is not always the happiest time of year for everyone due to different circumstances. The good news is there are always ways you can be festive despite your situation.
Christmas is known as being an expensive time of the year, which can be true, but you don't have to spend tonnes of money to enjoy it still. There are numerous options from our advent of things that are completely free or are low-cost activities.
So, it's time to be creative and see what you can do to be festive this Christmas!
To find out more on this topic…
Listen to our 'F is for Festive' podcast episode!

Follow us on social media!